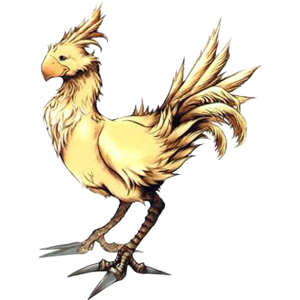 Chocobos have been in the Final Fantasy series since the second game in the series, but American players didn't get to ride chocobos until either the fourth game when it was released as Final Fantasy 2, or in Seiken Densetsu released as Final Fantasy Adventure the same year. For me it was Final Fantasy Adventure that first introduced me to chocobos, Moogles too albeit as a status ailment. That series needs more love.
Anyway, what I really want to talk about when it comes to chocobos is this part of Final Fantasy X.
FUCK THIS SHIT RIGHT HERE! THIS PART IS BULLSHIT! WHO THE FUCK CAME UP WITH THIS!
OK, I calmed down. I finally did it, I made it in around 33 seconds, 12 balloons, no birds hit, giving me a total less than 0.0 seconds. The two chocobo races in this game really just come down to luck more than anything.
Honestly, I really hope whoever made this mini-game is no longer working on video games. The controls are wonky, the birds often give you no chance to avoid them in certain spots along with the chance to juggle you, the course itself isn't always visibly defined clearly making your character actually change direction when you don't want them to, the camera changes screw with what direction you are going around the corners. In addition, fuck whoever decided to make this a trophy in the HD Collection.
What really gets me is they have a reasonably functional chocobo riding system in the game, just neither mini-game that involves riding chocobos uses it. They purposely make it more of a pain in the ass than it should be.
In conclusion, fuck chocobo riding in Final Fantasy X. As far as I can recall chocobos pretty much rock in every other Final Fantasy game, just not this one.